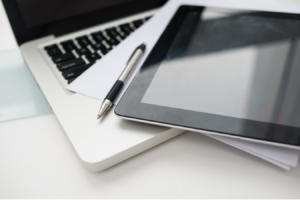 Writing your About page can be a doozy of a task, even for writers! Often what makes it so difficult isn't the subject matter; its more that you'll have to write about yourself. 
Before you read on, check out this post on to include in an About page and how it is a sales tool: https://truebluemarketing.co/sell-on-your-about-page/. 
In this post, I'll share what not to do when writing an About page. 
Making It All Business
Anyone reading your About page wants to about you or your team (depending on the size of your business). Yet, many About pages for small businesses talk only about the business. Your prospects do not read an About page to learn about your business. The rest of your site is for that. They want to know about you! 
When they come to your About page, some prospects will look for reassurance that you have the credentials they'll need, or feel they need, in an expert. Others will want to know that you've been tried and tested in your industry, that you have the experience that they need. 
Overall, they'll want to know that you understand them: their current struggles, the emotions that are driving their current state, what they want from working with someone in your industry. In short, this About page shares information about you to inform your prospects that you understand them. 
If you've devoted space on your About page to talking only about your business, you're not meeting the needs of your prospects. 
Educating Them
Are you outlining your mission statement on your About page? Here's my direct message said with love: Ditch it. Save that for a blog post where you can go in-depth to share what indeed drives you to do the work that you do or to help your ideal clients. 
The same goes for lecturing your ideal clients on why you're the leader or best choice in your industry. They didn't go to your site to hear you tell them what they need, and they certainly didn't go to your About page to listen to it, either. 
Giving Them Just a Little Bit
They've arrived on this page to get to know who you are, what you've done to get to this point in your business and to see that you're someone they can feel comfortable with leading them to their goals. Giving them a synopsis of your LinkedIn profile in two or three paragraphs won't cut it in this case. 
Give them more than you feel they'll want to know because different details will matter to different people. My minimum for About page copy is around 1,000 words. Any less and you'll miss out on an opportunity to hook your ideal clients on why you're unique in your industry. 
Giving Them Nothing
It happens rarely but is worth mentioning: when a business entirely skips an About page. Yes, it is necessary. And yes, you're losing prospects by not having one. 
Making It Too Personal
At the other extreme, there are some About pages that are entirely too long. If your About page is closer to a memoir than an illustration of why you do what you do, revisit it. 
Worry that yours may fall into this category? Do a quick word count check: if it is over 3,000 words, then this is the time to for a trim. 
Skipping Subheadings
You'll want to include them for two main reasons: 
You'll use them to introduce turning points or pivotal moments in your story

You'll have some people who skim the copy and this will pull their eyes back into reading the copy
Without subheadings, it'll be one long block of text. 
About You
How does your business's About page stack up? Are you doing any of the above missteps? If so, the best thing you can do right now is to give it a refresh so you can make your About page sing for your ideal clients. 
Looking for more website building know-how? Check out my free guide to the three elements to a successful homepage: https://truebluemarketing.co/the-three-most-important-things-missing-from-entrepreneurs-homepages