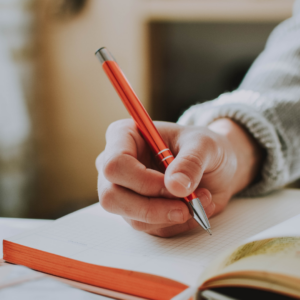 What if you could tap into ideas that would inspire your ideal clients to work with you? How simple would it be to market your business without the step of convincing people that you are the expert they need to get what they want? You may think it sounds like something you'll have one day when you can hire an expert copywriter, and that today is not that day. 
You can have copy that fits your business and pulls in your ideal clients, and you can start today by tapping into your expert knowledge of your ideal clients. You already work with them as often as you can so you hear the words they use to describe who they are, their problems, and the solutions they want. You're the person who is best suited to help them, so you know them better than anyone else can know them. 
That expert knowledge is how you'll start the process of creating copy that appeals directly to your ideal clients as part of the process of building your business. With that in mind, the best time to start the process of creating your copy is right now. 
Identifying Your Ideal Clients
Your ideal clients will be the people you would choose to work with again and again over everyone else. You must know who you want as a client before you can speak to them in your copy, your website, or your marketing. 
The simple fact that you have worked with them in the past and that you know what makes them your ideal client qualifies you as the expert on your ideal clients. You will know who they are, their problems, and their goals better than anyone else. 
If you're stuck on how to identify them, start by thinking about the one or two clients you absolutely enjoyed working with in the past. Then answer a few questions: 
What set them apart from the rest of your former clients? 

How would I know this type of person in a room full of people? 

What will I look for in perspective, phrasing, demeanor, or situation that will show me that someone is not my ideal client?
As the expert on your ideal clients, you have a depth of knowledge about that specific type of person, their situation, their needs, and the solutions they want. You're already past that first big, important step to creating copy for your business! 
A crucial detail in this step is that you'll want to only listen to your ideal clients, not their families and friends or your family and friends – only listen to your ideal clients. 
Many people in marketing for entrepreneurs and small businesses push people to create in-depth Ideal Client Avatars (ICAs) with tons of details like the zip codes of where their ICAs live, how many kids they have, the cars they drive, the products they buy, brands they wear, their favorite coffee order and so much more. Often, this list is time-consuming to create and nearly useless for creating copy because only a small percentage of the details are utilized in the final product. In my years of experience working with small businesses, I've learned that there is a simpler way to create copy that is more effective than this busy work, and that involves listening to your ideal clients, tracking their language, then connecting with them by tapping into that language. 
Listen to Them
What you may not know is that the process of writing copy can be simple if you first practice listening to your ideal clients. When you start to genuinely listen to what your ideal clients have to say and how they say it, you'll begin to notice what details truly matter to them about how they identify themselves and their problems. You'll develop a clear understanding of how their difficulties impact their lives and the lives of those around them. And you'll see how far the results you help them achieve can reach into changing their lives. 
Articulating this clear understanding when talking about your work is one of the big secrets to great copy for entrepreneurs and small businesses. While big corporations need to use flowery language and catchy slogans to frequently pull in a lot of new customers, small businesses win over each client one at a time. The most effective way to win over one person is to show that you have an incredible understanding of them and the experience to get them to their goals. 
Track Their Words
As you're listening to your ideal clients, collect their words and phrases for future reference while creating your copy. Whether you write them down in a notebook, online document, on post-it notes for your wall, or somewhere else, get every detail written down so you can pull from them when you're ready to create. 
It can feel efficient to paraphrase their words and ideas but this is not the way to connect with them. Truly listening to them and using their specific words is crucial to creating copy that connects with them on a deeper level. Paraphrasing is one of the quickest ways to lose them by showing that your understanding of them is not quite on target. 
Tap Into Their Language
You'll pull from this collection of notes to create your copy that fits your specific ideal clients. By utilizing their words and phrasing you'll reinforce that you are an expert on people like them with the same problems and that you are the guide they need to arrive at the goals they want. 
Mirroring their language back to them in tried and true copy formulas is one of the most effective ways to connect with them from the first few words you share, with no shady pitching or sales-y promises required. 
Ready to get started on the copy formulas that actually work? Download your free copy of The Copy Guide now.