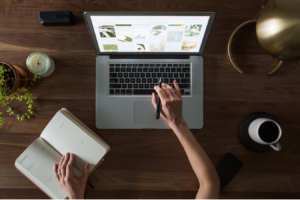 How often should you update your site? This often comes up in conversation after I've explained that I create websites…and is usually followed by an explanation about why that person's site hasn't been updated in a few years or more.
Here's the thing with that: it might be ok. I'll explain a bit more below, as well as how to tell if your site needs to be updated every two, three, or even four years.
Why Update Every Few Years?
Is your site mobile-friendly? If you'd last updated it four years ago, then it may not be. As of the writing of this post in 2018, if a site isn't mobile-friendly, it may be losing business since many users visit sites on mobile devices. For more on mobile responsiveness, check out my post here.
Having a site that is mobile friendly is just one example of how technology advances in a few years and how search engines are now requiring this in order to rank well in search. (Again, bookmark that post for more details if you're lost here!) If you update your site every five years, it'll take extra effort to integrate new technology requirements into an older site.
How Often Do You Need to Update Your Site?
The answer here depends on a number of variables.
How integral is your site to your business? If you drive traffic to your site frequently or it is part of your sales funnel, you'll need to keep up with updates in order to show that your business is also evolving.
Is your site mostly a business card with your contact info and very little else? (If so, let's talk.) If your site is very simple, your updates will be minimal but your gains due to the site will also be minimal.
How many of your users are on mobile devices? Most people update their devices regularly, and they upgrade their devices regularly, so your site will need to work well on newer browsers and devices with updated screen sizes.
This set of questions should give you an idea of how often your site needs to be updated. If your site is a vital part of your business (say, if you're running an entirely online business), your site is where your sales take place, and your site visitors are mostly on mobile devices, then you'll need to update your site every two years. Yes, every two years.
If your site is a business card that addresses just the basics of your brick-and-mortar address and how to contact your staff, your update won't need to be as involved or intense. Schedule upgrades to your site for every three or four years, with updates to its software in between as needed.
Somewhere in between? Look at your site compared to your competitors every few months. If you find that they're updating every two years, go with that. Every three years, stick with that. Every four years? Question how well they're actually running their business. 🙂
How to Avoid Having a Site That's the Digital Dinosaur
Your site should match your business, showing who you target for sales and what you give them for results (either with a product or a service). If your site looks like something from five or ten years in the past, your prospects may wonder how up to date your business processes are as well. Not quite the impression most businesses want to convey.
Stay ahead of looking like the dinosaur in your industry with consistently timed updates. This is a simple sentence to write but you may be wondering exactly how to accomplish this. Start with the following:
Add an analytics software to your site. I prefer Google Analytics. Your future site designer will thank you for having a year or two of data on which to base what's working on your site and what isn't working out so well.
Keep a running list of what you like about other sites, whether they're competitors or in another industry. Take screenshots and note what you like about them.
Keep a running list of the words that your customers/clients use to describe what they want from you and the specific way they articulate what they want as a result. If you don't use this in writing your own copy, your copywriter will use it in the future.
Continue to note which pages your new email marketing subscribers are coming from on your site. If you have one page that's converting well, look at what's working on that page. The format, wording or layout may be something to duplicate in your new site.
Now, what's your plan for your site upgrades? I'd love to know whether you're a two, three, or four-year planner! (Don't worry, I won't try to change your mind.) Catch up with me on Facebook or Instagram, or by email at kristina@truebluemarketing.co. I'll personally respond.