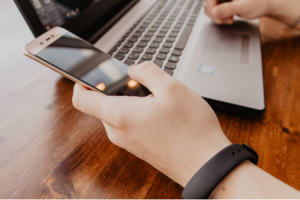 Every website is different but they have many elements in common. In this post, I'll share the top five site tips that I leave with every website client, whether they're just launching their site, we've completed a site revamp, or we've worked together for the first time on a one page project.
My Top Five Tips For Every Site
I share this list with every web design client after we've finished our project. Here's a quick peek at what they learn about maintaining their site:
Consider software updates whenever they roll out. Some people say to activate (or install, depending on the service) updates as soon as they are ready, without hesitation. I hesitate and here's why: some updates can do unexpected things to the customizations on your site. Whether you have a child theme or not, typically sites aren't entirely protected from the occasional issue related to updates. I recommend doing updates as often as you can but not without already completing the other tips on this list.
Do routine data backups. Nearly every time I start working with a new client, I find that their site either hasn't ever been backed up or it has been a long time since their site successfully completed a backup. Although routine backups are a great idea, they become very important to do a backup just before doing any updates to the copy, design, or software that's running your site. If anything goes wrong with an update, you can always restore the backup of your site.
Test your site's functions before going live. Be sure that you or your designer has tested any functions on your site before you have it go live. I recommend testing the new functions (forms, links, quizzes, opt-ins, to name a few) once it is added to your site and once again before launching it to the public just to be sure that it's ready to go.
Test updates in a variety of browsers and screen sizes. Before you check that site update off your to-do list, test it in different browsers and screen sizes. Two free tools that I like for this are Browserling.com and Screenfly by QuirkTools.
Update your site as you update your business. As you build your business, you'll likely learn more about your ideal clients from their preferences in wording to their specific needs of how they use your site. If you can update your site on your own (which I set all of my WordPress clients up to be able to do), you'll be able to adjust your copy to integrate their preferred language and update your site to best meet their needs. An example: if 75% of your ideal clients view your site on a mobile device but they need to access a membership site that's not mobile-friendly, they may use your site far less than is necessary.
Your site can evolve with your business, and your ideal site should evolve with your business. Follow this list and you'll be ahead of the site updating game!
Do you update your site, or do you have a designer to take care of it for you? I show my clients how to update their sites with instructions and custom video tutorials at the close of every project, so you'll have the tools you need to keep moving forward with a current site. If you'd like to learn more, I invite you to schedule a free 15-minute talk with me. It's pitch-free, and you'll walk away with a few tips on how you can update your site!
To learn more about what a web designer sees on a site, check out my post What a Web Designer Sees On A Site.
To learn how often a business site should be revamped to stay fresh, go to my post Update Your Site Every Two or Three Years.