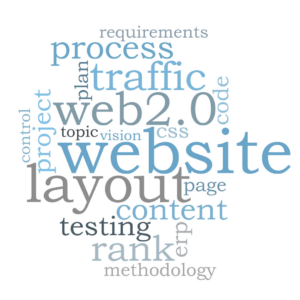 If you've wondered, "What do I need to move my business online?" this post is for you.
Starting a business takes a lot of planning and then being in the middle of multiple tasks at once. It can quickly become overwhelming and feel unpredictable. You may find that you'll need to simultaneously file official business paperwork, choose a domain name, create a marketing plan, do outreach to potential clients, and create a website. The list will vary from business to business and can go on and on, so this is a simple start. (I've added links to help with some of the items on this list.)
The answer to how you get all of this done is: you do it in baby steps. Let's look at the baby steps you can take toward creating a new (or fresh) website that supports moving most of all of your small business online. (To get started with baby steps in a more general sense, check out this post.)
Website Essentials
Your website needs to have a few details:
Business name
Contact info with at least an email address
How to start working with you
The name of the business owner
Your business name must be somewhere on your website, and the most common places are in the website's listed name, in the menu at the top of the page, and in the first section of the home page. No matter what, have your business name in at least one place on this list.
Share your email address for your business on your whole website. The more places you share this on your website, the more likely someone will reach out to you if they want to work with you.
Your prospects will want to know how to work with you, so spell it out for them. If your current process is to have them email you to schedule a conversation, that's okay to share on your website.
Most businesses that have one owner, and are as simple as one person, will list that person's name on the website. If your business is just you (as is the case for many of my clients), you'll want your prospects to know your name so they're one step closer to being ready to talk with you.
More Than Basic
What more does your website need so you're ready to start doing business online? Here are some suggestions for your following priorities:
A photo of you
A short statement about your ideal clients, the service you provide, and the results your ideal clients want
A description of the work you do with an accompanying link to book and pay for a starter session
This set of additions to your site will help your ideal clients get to know you and your business better while starting to show them how well you understand them, which is one of the keys to successful marketing. To get started on the second and third items on this list, check out this post about finding your ideal clients.
Subscriber Level List Building
When you've completed the previous set of details on your website, it is time to start to build your email marketing list so you're continually sharing content with your prospects. To start, you'll want to create a free offering (often called a lead magnet or freebie, which I'll call an opt-in). Your opt-in will be something that your prospects will want to share their email address in exchange for downloading or getting access to it. To get into the details of what you'll want to share about this opt-in with your ideal clients, check out this post.
The Offer Page
After you have all of this done, you'll be ready to build out more of the details of your offer page. Your offer page will be the place to share the details of your offer and what your clients can expect for results from it, and your copy must show the depth of understanding you have of your ideal clients.
I caution against creating more than a simple outline of an offer on a business website before you truly know your ideal clients well enough to write 300 words about their pain points. Before that point, copy that attempts to speak to them will be more of a shot in the dark. Most business owners need to spend time researching their ideal clients before they're ready to write an offer page OR hire a copywriter to write it for them.
After an offer page, I always suggest creating an about page for websites. Learn what to include and not include in the copy there.
Stuck on how to write copy that truly works for your website? Check out my free Small Business Website Copy Guide for an in-depth resource for sourcing, organizing, and writing copy that truly supports your business.