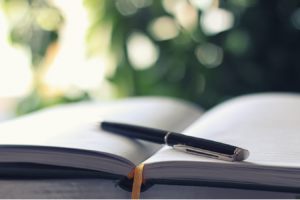 I've learned so much from the mistakes of others in my life, from what to do (or not do!) to how I can do things better than those who have failed.
In the spirit of learning from the mistakes of others, I'm about to get personal: here are four of the mistakes that I made when I was first building my businesses and what I do now that I've learned from them.
#1 Ignoring My Instincts
When I started my first business in 2014 I did a few things that truly set it up well including things like filing the necessary paperwork with the state and federal government, having a lawyer look over that paperwork, and networking at events with our ideal clients.
What I didn't do was listen to what I knew to be true about marketing from my experience working at someone else's business. My business partner and I signed with a few marketing companies only to find their results nonexistent. Unfortunately, I'd ignored my gut instinct which had said to politely turn down their offers.
What I Do Now
I do what I counsel my clients about for marketing solicitations now which is that if another company is reaching out to sell you on marketing, they need the deal more than you do.
Lesson Learned: If you need some help with marketing take the time to find the right expert for you and your business.
#2 Not Weighing Leads
Also at that first business, I'd compared our starting year to others in the industry. We looked at how many potential clients were in our area (the numbers were staggering, of course) then decided that we'd only see one or two ideal clients for meetings per week.
What I Do Now
Anytime I meet with a potential new client, we look at far more factors than if I'd like to work with them. I consider their business type, their industry, their working style, size of their team, timetable for the project (whether ongoing or a one-time project), among other factors.
Lesson Learned: I get to choose who I work with based on how well they fit with my strengths.
#3 and #4 Planning It All Out
I love to map out possibilities. Truly, I do.
When I first started my businesses I looked at my income goals, then broke it down by offer type, then by price per offer sold in order to see how many clients I'd need to make my monetary business goals. Sound familiar? Possibly that's because it is recommended by most online business mentors (some offline as well).
The problems were that a) it looked at my clients as numbers rather than individuals running unique businesses AND b) it only accounted for a monetary business goal.
What I Do Now
Although I do sell specific offers that I know my ideal clients need (see my Nail That Introduction offer based on pandemic needs), I also customize my packages to meet the needs of each unique business.
I also do not base my success or failure on monetary goals but rather on the number of clients served per month, quarter, and year. The more businesses I can help, the closer I am to my goal of helping others create their dream businesses.
Lesson Learned: I can't plan out everything, even with all of the data points available (which I love to collect!). There are too many factors that impact the price point for a package of services and whether a new package is sold.
Since #3 and #4 on this list are partnered together, I'll add another item for good measure.
Bonus: Business is Just Business
You've probably heard this more times than you can remember. I certainly have: business is business and it isn't personal.
The thing is: the decisions made by a small business owner often do have a personal component to them, whether that person likes to accept it or not. We all have biases built into our decision-making.
I used to let this bother me, to take it as a personal statement about me or about how I run my business. The truth is that most of the time, personal biases are more about the person displaying the bias than they are about the person being biased against.
What I Do Now
I'm working to see and acknowledge my own biases and to remove them from my decision-making process as a small business owner.
I've also done some work to become aware of how the biases of others are often so deep that they may not be aware that their biases exist.
Lesson Learned: I don't take being the recipient of biases as a personal statement about me nor do I hold it against the other person. However, I do accept it as a sign that they're not ready for my work.
Did this list give you perspective on what you've learned as a small business owner? If so, I'd love to hear from you! Catch up with me by email at kristina@truebluemarketing.co.