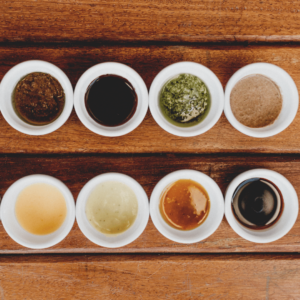 How do you entice prospects to work with you while not giving away what makes your work unique?
In this post, I'll share the details you'll want to get into your copy, so you get new clients and what you can keep secret.
First, I'd like to share that this is what works for my marketing formulas on offer pages and what I've learned from industry pros. It is based on proven methods that work. However, if you genuinely have different preferences for how much you share about your business online, please stick with that. I would never suggest publishing details about your business that are outside of what feels right to you.
The Secret Sauce
For some small businesses, sharing how you get clients from where they're at (let's call this point#1) to the result they want (point #2) is like sharing a restaurant's secret sauce – far from what you want to do because it feels like giving away what makes your methods unique. Without that secret sauce, you may wonder why someone would choose to work with you over a competitor.
And, that question of why someone would want to work with you is okay to ask. It is a good question and one that I ask while drafting copy for clients!
Getting specific about why someone would choose to work with you is about two things: that they're genuinely your ideal clients and that you've centered your business (copy, marketing, sales calls, services) around the needs of that client.
They Don't Care
Now, you're probably thinking that they do care. You're right: they care about working with someone who understands them and can get them from point #1 to #2.
If your copy is written just for them, they don't care how they'll get from point#1 to #2: what they care about is simply getting to that result.
Keep in mind that most ideal clients haven't considered their preferred path from point #1 to #2, and because of that, there's no need to share the details of it. Often, clients are not looking for a specific way to get from their current situation to their desired result. They're far more focused on the result they want.
If you were to ask your ideal clients how they want to get from their current situation to the result they're imagining, most aren't sure how to get there, and that's why they want to hire someone to help them.
What to Include
You'll want always to include what your ideal clients care about: that you understand them along with the results they want. It also helps to look at the impact of the results in what I often call the positive domino effect.
Show your ideal clients the results they can expect from every item in your offerings, from an onboarding call to the post-session survey. No matter how small the item, if you outline it in your copy, also include what they get from that item to see why it is essential to the journey of actions they'll take from point #1 to point #2.
But, don't include what your training/experience/expertise brings to that item. This is where you'll want to keep the details hidden because it will be too much information compared to what they need to know before they work with you.
Credentials
When I often work with clients on offer page copy, including credentials comes up around now. Some people will want to know about certifications before working with you, and that's okay. If your people ask about your credentials, add a link to your About page. If they don't ask before working with you, there's no need to include that info on your site. 
Did this change how you view sharing the details of your offers on your website? Id' love to know! Email me – I reply to each one.