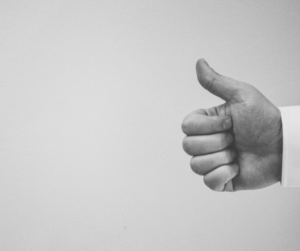 Every business owner, every day, needs to take small incremental steps toward their goals: long-term and short-term goals.
I've met so many business owners who are looking for the one or two changes that'll catapult their business into "success" with more clients and more revenue. Although this can happen along the journey to a successful business, more often it is the little steps toward goals that truly move a business forward. (For more on this topic, see my post Take the Slow Lane.) 
Three Baby Steps
I had a conversation with someone a few weeks ago who was just starting her business and she shared that getting it all up and running felt like she had to keep all of the plates spinning: email list, social media channels, tax responsibilities, finding the best business type for her business (LLC, sole prop?), creating an offer for her services, finding her ideal clients, state filing of official documents, the list went on. 
What helped her make progress? When we took an honest look at what she needed for her business we were able to discern which baby steps were the next ones for her right now: 
Creating an offer that she can share with her contacts

Researching the best business type for her situation

Finding tax advice for her state
If she hadn't already established what she plans to offer her clients and who she plans to work with, she might not have been ready for our discussion about how to structure her offer. If she didn't have a list of contacts from similar work then she might not have been ready to get that offer out to prospects. 
In our conversation, we had the chance to flesh out all this to know what her next step was for getting clients so she can start to make money in her business. 
Baby Steps Over Time
Her next steps will change as she creates a unique business. If we'd talked this over three months ago, her baby steps would be different. When we meet three months from today, they'll be different again. 
The constant is that the only way to get it all done to create a successful business is to take consistent action over time. Attempting to do giant steps rather than baby steps will bypass the nitty-gritty details that can be important (like choosing the right business type!) and the lessons she'll specifically need to learn along the way to become the business owner she needs to be. 
Your Baby Steps
What baby steps does your business need you to take right now? 
If you have too many of them in your head, get them all down on paper (or digital doc) then take the time to put them in order of what needs to happen before other tasks can happen. 
Here's an example of how this could play out for you: 
Choose a business name

Buy the domain for your business name

Set up a business email address
If step one wasn't done then it wouldn't make sense to do step two or three. If step two wasn't done then step three wouldn't be possible either. It all has to happen in sequence. 
Once you have this organized you'll be ready to make substantial progress toward building your business. Ready to get serious about your business? Grab a spot on my calendar for a no-pitch chat. 
Looking for more? I'd suggest starting with this list: